Meet Our Award-Winning Attorney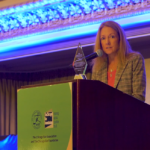 On July 23, the Chicago Bar Foundation honored Legal Council's program director Lisa Parsons with the most prestigious award given to Chicago public interest lawyers, the Thomas H. Morsch Award.
"Lisa, every day and with every client, chips away at the notion that [those who are homeless and living with severe mental illness] can be thrown away, dismissed by our government as unworthy and at fault," one colleague wrote about Lisa, "Her work, and its impact on her clients and their families, has been nothing short of life-changing."
Lisa has directed the homeless program at Legal Council for ten years. Under her leadership, thousands of individuals living in homeless shelters or on the streets have received life-saving, trauma-informed advocacy, a stable income, housing, and quality medical care.
Each year, the Chicago Bar Foundation awards the Thomas H. Morsch Award, the premier public recognition for long-time legal aid and public interest law attorneys in our community. The Award was established to recognize and reward exemplary lawyers who choose public service work as a career.
Watch Lisa's acceptance speech below. Congratulations, Lisa, for this well-deserved honor!