Feature: Spreading the news of Legal Council's lead pilot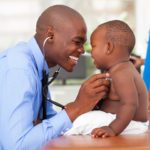 Georgetown CCF's Say Ahhh! blog invited our Children & Families advocates to write a feature on our lead pilot, Early Intervention, and the effects of lead-exposure on children.
Currently, no widespread interventions address the negative neurocognitive effects of lead exposure, yet the promise of early childhood services cannot be ignored. Every state participates in IDEA Part C Early Intervention. E.I works to reduce developmental delays, and many, including the CDC, believe that intervening early can help children affected by lead. As a result, Legal Council for Health Justice is leading the charge in Illinois to advocate for the adoption of automatic early intervention eligibility and services for lead-exposed children because they have a diagnosed medical condition that typically results in delay. The goal with automatic eligibility is to take advantage of the critical period in children's lives when their brains are best able to adapt and overcome prior insult, enabling lead-exposed children to produce positive developmental outcomes.
Thank you to Georgetown CCF's Say Ahhh! blog! Read more about the amazing, ground-breaking work of our Children & Families program on Georgetown CCF's blog.