What You Can Do To Help Medicaid in Illinois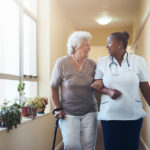 For more than three million Illinoisans, Medicaid is absolutely critical to good health and well-being. The program is the largest single source of health coverage in the state, providing access to care for children, families, seniors, and persons with disabilities. But while Medicaid keeps rural hospitals open and brings billions of dollars in federal funds to the state, its eligibility and enrollment system falls behind. With a new eligibility computer system, enrollment has become much more difficult for hardworking Illinoisans. People applying for Medicaid constantly have to wait months to find out if their application was approved.
This lengthy and unnecessary wait causes hurt and frustration as individuals and families are delayed in accessing medication, preventative care, and other needed treatments. But the frustration doesn't stop at the application process: Because of procedural issues like lost mail or system glitches, almost half of everyone covered by Medicaid loses coverage each year when their case is re-evaluated during the redetermination process. That's right: Children, families, seniors, and persons with disabilities often lose their health care because of something as simple as lost mail.
Why should Illinoisans have to jump through extra hoops to access the health care and services they need and are legally entitled to receive?
In response to these constant barriers, Protect Our Care Illinois (a statewide coalition of which Legal Council is a leading agency) is promoting a new piece of legislation to reform and improve the Medicaid eligibility and renewal process. The bill, SB2021 or the Medicaid Eligibility Determination and Renewal Reform Act, takes the best practices from other states who do not experience Illinois Medicaid's problems and puts forward a comprehensive approach to reform. The bill would: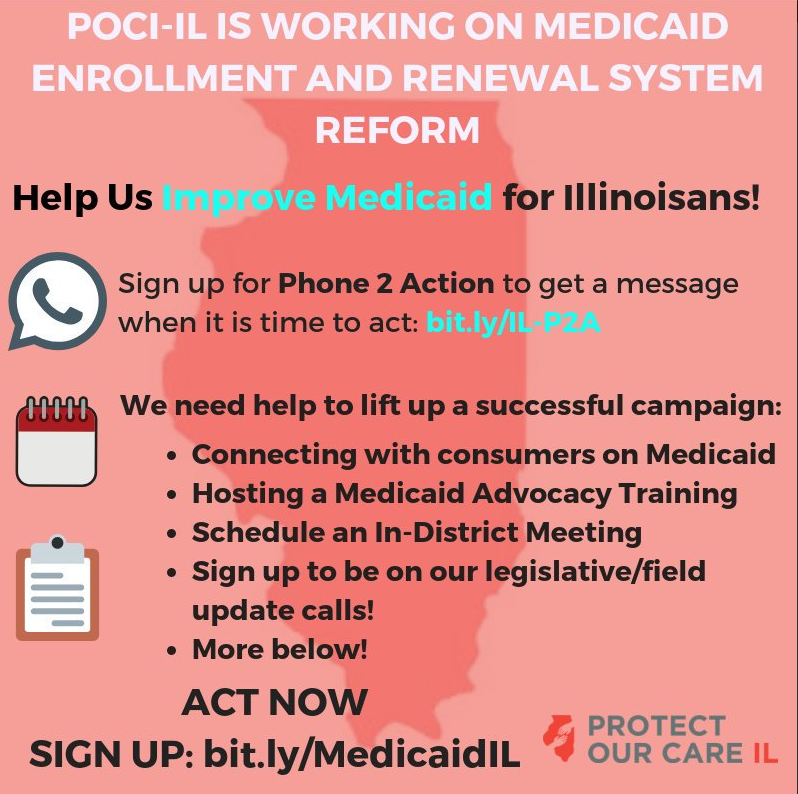 • Require better coordination between the Medicaid eligibility system and related programs such as SNAP
• Make Medicaid renewals simpler and less burdensome by reducing required paperwork and increasing the types of data verified electronically
• Restore Medicaid coverage in a timely manner for those who have had a lapse due to cancellation at renewal
• Expand access to the electronic eligibility portal (Manage My Case) for both applicants and authorized providers to better utilize electronic notifications and communications.
Improving the Medicaid system so that it actually works is critical in achieving health justice for people of color, people with disabilities, and people earning low incomes. But we can't improve access to care in Illinois without your help.
Sign up for Phone 2 Action to receive an alert when we need your support. 
Help us help Medicaid by sharing information about this bill with your friends, families, and neighbors. You can also help Protect Our Care Illinois collect stories for their Medicaid campaign.
Keep up with efforts to improve and protect Medicaid on Twitter @thelegalcouncil and @ProtectILCare.
---
In case you missed it:
The problems with Medicaid enrollment and renewal aren't new. You may remember in May 2018 when Legal Council filed a class-action lawsuit against the State of Illinois for illegally delaying and denying Medicaid applications for thousands of Illinoisans. In a press release, we wrote:
Under federal law, the State of Illinois is required to process most applications for Medicaid—the federal-state program that provides health coverage to roughly 3 million people Illinoisans—within 45 days. Pursuant to the existing consent decree in Cohen v. Wright, if a determination has not been made in that period, the State must notify applicants that they are eligible for temporary coverage and promptly provide it if requested.

Yet as detailed in declarations filed by enrollment assisters and healthcare providers, the Illinois Department of Human Services (DHS) is months behind in processing applications and has also stopped sending notices offering temporary eligibility. As a result, tens of thousands of low-income people throughout Illinois are being denied medical care. Among the widespread suffering and hardship, pregnant women are giving birth without health coverage, people facing mental health crises are missing treatment, and children with serious medical conditions are forgoing crucial medication.