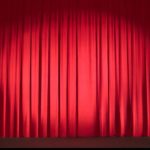 If you were foolish unfortunate enough to miss it the first time around, it's coming back for one night only.  What are we talking about?  Why, only the most entertaining, thoughtful, poignant and joyous cabaret show since the beginning of recorded history.  And it's a benefit for AIDS Legal Council of Chicago.
Chicago crooner Justin Hayford (that's him in black-and-white in the background … are those eyelashes fake or what?) is presenting an encore performance of Beautiful Day in the Neighborhood: Wit and Wisdom from Children's Public Television.  The show celebrates the charming, inventive and disarmingly insightful songs from Sesame Street and Mr. Rogers' Neighborhood.   What's not to love?
And here's the really good part:  you set your own admission price.  And every dollar goes directly to AIDS Legal Council. 
The big show is on Sunday, May 20 at 7pm at Davenport's Piano Bar & Cabaret, 1383 N. Milwaukee Avenue in hip Wicker Park.  You can make your reservation through Davenport's website or by calling Davenport's at 773-278-1830.  The show sold out last time, so make your reservation today.