Steven Barrera, Superduper Hero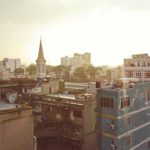 In truth, it's nothing special. We here at AIDS Legal Council often have to rush out of the office to help clients in tight spots. But here's a story that reminds us why it's important for the Council to be ready at a moment's notice to leap tall buildings in a single bound (metaphorically, of course).
Our lovely and talented paralegal Steven Barrera has a client who called last week, wanting to do powers of attorney. We'll call her Crystal. She fled from Cuba a couple decades ago. Back then she was Juan. These days she lives as a woman. Crystal only speaks Spanish, and she cannot read or write. Crystal called because she was having some sort of heart trouble and was in the hospital for observation. The doctors assured her it was minor, but since she has no family here, she realized that without a power of attorney there was no one legally authorized to make medical decisions for her. In addition, she receives SSI, and without a power of attorney for property, no one could cash her SSI check and pay her bills if she were incapacitated.
So Steve got all the information he needed to complete powers of attorney. Crystal said that when she got out of the hospital, she'd call him to make an appointment so he could go to her apartment and execute the powers of attorney with her.
That was on a Thursday. The following Monday afternoon, Crystal's case manager called Steve. It turned out that Crystal's doctors realized her heart trouble was serious: she would be be going into open heart surgery in a few hours! So Steve drew up Crystal's documents lickety-split, waved goodbye to our director Ann Fisher as he flew out the door, jumped on the el, transferred to a bus, and made it to Crystal's hospital room in half an hour. He even remembered to bring his notary stamp (in Illinois, powers of attorney for property have to be notarized). Fifteen minutes later, Crystal's documents were complete. Steve told Crystal's nurse to put a copy in her medical files, so her doctor would know who to contact in an emergency.
Here's the take-home point (besides the obvious one about Steve Barrera's superhuman legal skills): if, like most people, you don't have powers of attorney, don't put it off. They're simple to do. And if you're lucky, Steve will even let you see his fancy red notary stamp when you visit us.