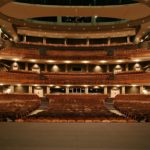 Normally we're not ones to name-drop, but how often do we get to hobnob with a true pop music icon — and one who really knows how to let her freak flag fly?  That's right, we're talking about Cyndi Lauper.  And technically we haven't hobnobbed with her yet.  But our people have been in communication with her people, and big things are in the works.
And why do you care that Cyndi Lauper loves us?  Because we've arranged for you to rub elbows with Cyndi Lauper herself.  She's opening her new musical, Kinky Boots, right here in Chicago, and the groovy folks at Broadway in Chicago made some special tickets available to us.  And if you buy a ticket, you not only support our work — you get an invitation to a private cocktail swanky-danky reception with Ms. Lauper.
The big night is Thursday, October 11.  The show is at 7:30.  The private reception will be before the show, but we're not telling you where it will be until you buy your tickets.
What on earth are you waiting for?  Click here to get your tickets.