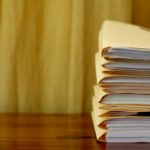 The best thing about the Illinois Department of Human Services is its highly developed sense of farce. Consider Jeff's story.
Recently Jeff went to his local IDHS office and applied for Food Stamps (also known as a Link Card … also known as SNAP … and no, that's not really the farcical part of our tale). Not long thereafter, he received two letters from IDHS. Both letters were dated September 18. Both were sent from the same local IDHS office. The first said his application for food stamps was approved. The second said his application for food stamps was denied.
The farce gets a tiny bit better. The next day Jeff received a third IDHS letter, from the same wacky local office, saying he would receive a Link Card with $93 on it. The card never showed up; clearly the cut-ups at IDHS appreciate that it's funnier that way.
Understandably befuddled, Jeff called us and talked to our paralegal Lindsee Redmond. She filed an appeal (imagine how much fun it was to explain exactly which IDHS action she was appealing). This morning she accompanied Jeff to his hearing at the comedy-rich IDHS office that had sent all the bewildering letters.
Lindsee didn't just fix the problem, she fixed it immediately. She got the hearing officer to approve Jeff's food stamp application right then and there, and she made sure Jeff had a $93 Link Card in his hand before she left.