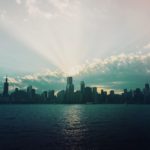 Remember the case of the loose-lipped phlebotomist? It has a happy ending.
A few months ago we told you about Leonard, who got his blood drawn at a suburban hospital. He started chatting with the phlebotomist, and it turned out that her nephew worked in the same store as Leonard. A few weeks later, everyone in that store was talking about Leonard's HIV status. It looked to us like the phlebotomist blabbed about Leonard's HIV status to her nephew, who then blabbed to co-workers. You can read the original post here.
We confirmed our suspicions by talking to the assistant manager at Leonard's store, who told us that the nephew had indeed disclosed Leonard's HIV status. And obviously, he could only have learned about it from his aunt. When we first contacted the attorney for the hospital, she said that Leonard had already filed a grievance with the hospital; she had investigated and found no evidence of wrongdoing. In all likelihood, the attorney's "investigation" was nothing more than asking the phlebotomist if she'd told her nephew that Leonard is HIV-positive. We explained that we had confirmed the confidentiality breach with an employee at the store. Then we fired off a letter to the attorney, explaining the ins and outs of the Illinois AIDS Confidentiality Act and asking the hospital to compensate Leonard in lieu of taking the hospital to court.
The attorney reopened her investigation into the matter, and whaddya know, she agreed to settle with Leonard for $5,000. Leonard, who wasn't interested in money in the first place — he just wanted to make sure the same thing didn't happen to anyone else — was understandably overjoyed.