Hooray for the 110th Congress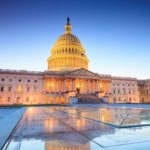 Everyone loves to complain that our elected officials don't care a petootie about the real struggles of everyday people. Well whaddya know, it seems the current Congress cares a whole lot about everyday people with disabilities — including people with HIV. To prove it, they've just passed powerful amendments to the Americans With Disabilities Act (ADA). If President Bush signs the bill — and he says he will — legal advocates will have stronger weapons to fight discrimination against people with disabilities.
The ADA was created in 1990 and signed into law by Bush, Sr. Its intent was to provide sweeping protection for people with disabilities who for decades had been systematically denied full access to and participation in American society, particularly in the area of employment. The ADA said that employers could no longer discriminate against employees simply because they had a disability. The ADA defined a disability as "a physical or mental impairment that substantially limits one or more major life activities."
But since that law was enacted, many courts have interpreted the ADA quite narrowly, often ruling that people with serious medical problems did not have "disabilities" under the law and therefore were not protected under the ADA. The new amendments address this problem head-on, stating, "The definition of disability in this Act shall be construed in favor of broad coverage of individuals under this Act, to the maximum extent permitted by the terms of this Act." In the immortal words of Home Simpson, woo hoo!
Equally important, it has often been difficult for many people with HIV to prove they have a disability under the ADA because HIV infection didn't cause a substantial limitation in a major life activity. In other words, it was not always possible to convince a judge that a very healthy person with HIV had a disability under the ADA. But the new amendments provide helpful language on this point: "A major life activity includes the operation of a major bodily system, including…functions of the immune system."
We're excited about these sounds changes in the ADA, and we hope the President signs them into law. We'll keep you posted.