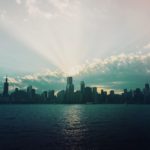 There's a groovy new gal in the Council's corner office — Mary Hankey, our new Community Outreach Coordinator.
Mary grew up in Chicago's north suburbs, then attended University of Illinois at Urbana-Champaign where she received a degree in journalism and women's studies. While there she discovered her passion for advocacy, focusing on women's rights and sexual assault education.
"The school was the only Big Ten university without a women's crisis center," she says. "There was a center in Champaign, but it was a good 20 minutes from the university. So I worked with other students to bring a women's center to campus." Eventually their efforts were successful.
Mary graduated last spring and then spent a year working in development for the Taproot Foundation which provides business talent to nonprofits. Last week she joined the Council's team, and we're sure she'll love working with us. I mean, who wouldn't?