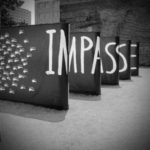 Last week's budget address from Gov. Rauner would have people think the whole Springfield stalemate is about nothing less than the future of Illinois.
Meanwhile, the most vulnerable Illinoisans —  children in low-income households, senior citizens, the disabled, victims of trauma and abuse — are being denied life-saving interventions that help them stay on the path to dignity, well-being, and self-sufficiency.
Not only does the Governor's "let them eat cake"-toned spin abdicate the elected responsibility of governing a state which has the fifth largest GDP in the nation, the "budget" that the state's new highly-compensated team finally presented last week doesn't balance. Expenses are $3.5B over revenues.
Pity that the oath Gov. Rauner took when assuming office is nothing like the oath that our medical-legal partners take when becoming physicians.
Politician, balance thyself.