EPA Paves Way for Innovative Legal Council Project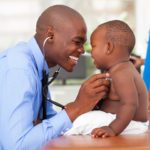 Last week, the U.S. Environmental Protection Agency (EPA) awarded Legal Council with an Environmental Justice Small Grant to create a blueprint for a "kNOw LEAD" mobile-enabled website which will provide fingertip-ready information on lead poisoning prevention for Suburban Cook County (SCC) providers and residents.
"There is a critical need to put easily accessible and current information on lead poisoning prevention in the hands of providers and families to increase persistently low testing rates and promote access to life-changing services for children with lead exposure," said Amy Zimmerman, Director of Children & Families Partnerships.
The mobile-enabled website will contain information geared towards medical providers, public health home visitors, Early Interventionists, community members, and families affected by lead poisoning.
In Suburban Cook County, more than 70% of homes were built prior to 1978, when lead paint was banned from residential use. Today, these homes are mostly found in low-income neighborhoods, as are many lead water pipes. For the more than 76,000 children living in poverty in the county, this means they are at high risk for lead exposure.
However, only a mere 22% of suburban county children have ever had a blood lead test, and there is only one lead health educator for all of Cook County. In an area of more than 2.4 million residents, this risk, combined with low testing rates and lack of easily accessible information regarding lead poisoning, means that many children are not identified and do not receive the services that could help mitigate the harmful effects of lead exposure. Consequently, the "kNOw LEAD" website will contain information clarifying testing and reporting requirements, follow-up, public health, and other available resources for families in SCC in order combat these barriers.
The blueprint will be created in collaboration with project partners Dr. Nicole Hamp, Developmental-Behavioral Pediatrics Clinical Fellow, University of Michigan C.S. Mott Children's Hospital; Dr. Michael Harries, Resident, University of Chicago Comer Children's Hospital; Deanna Durica, Director and Diamond Ross, Health Educator, Lead and Healthy Homes, Cook County Department of Public Health, and LimeRed web design. Legal Council and project partners will conduct outreach and engagement for a wide array of stakeholders through targeted education, focus groups and surveys that will powerfully inform design and functionality to ensure that the eventual development of the "kNOw LEAD" mobile enabled website reflects stakeholder needs and builds community capacity to identify, treat, and serve young children with lead poisoning.
Legal Council was one of 50 organizations selected out of 208 applicants nationwide and one of only 6 in the region to receive funding through the EPA Environmental Justice Small Grants Program to address environmental justice issues in their communities. To learn more about "kNOw LEAD" and other Small Grant projects, read the EPA news release.
Learn more: