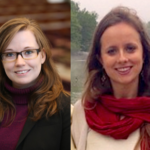 This month, not one but two of the Legal Council's former PILIs were appointed to the Public Interest Law Initiative Board as their 2015 Intern and Fellow Alumni Representatives, respectively.
Amanda Walsh, is PILI's 2015 Intern Alumni Representative for a two-year term. Amanda was a PILI Intern last spring at the Roger Baldwin Foundation – ACLU of Illinois. Amanda is our Equal Justice Works fellow sponsored by Walgreen Co. and Baker & McKenzie, LLP. Amanda's two-year fellowship is focuses on unmet behavioral health needs of children and families in our Chicago Medical-Legal Partnership for Children program.
Sarah Schultes, has been appointed PILI's 2015 Fellow 2015 Fellow Alumni Representative. Now a first year associate at Kirkland & Ellis LLP, Sarah is a "double PILI," having worked as a Law Student Intern at the Legal Council for Health Justice in 2013, and recently finished a PILI Fellowship at the Chicago Appleseed Fund for Justice. During her Internship at the Council, she assisted individuals in securing public benefits and researched the effects of the Affordable Care Act on individuals living with HIV/AIDS in Illinois.
Read more about Amanda, Sarah, and numerous other attorneys who have contributed their time and expertise to serving law in the public interest in PILI's Alumni Spotlights. PILI's mission is to cultivate a lifelong commitment to public interest law and pro bono service within the Illinois legal community to expand the availability of legal services for people, families and communities in need.