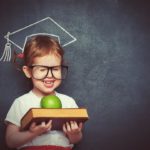 On Wednesday, July 15th, advocates, providers, and allies of the disability community convene to stage a Disability Budget Crisis "Speak Out" at the Thompson Center.
Amy Zimmerman, director of the Chicago Medical-Legal Partnership for Children will testify to how the deadlock in Springfield is hurting infants and toddlers with developmental delays who have a legal right to early intervention services. We will be joined by the parent of a child who has benefitted from these services, our hero, "Super Nova:"
Read Amy's "Babies Can't Wait" testimony below.
My name is Amy Zimmerman and I direct the Chicago Medical Legal Partnership for Children, I'm also a member of the Early Intervention Interagency Council.
The budget impasse has already started to hit Early Intervention families and providers.
Three Child and Family Connections Offices closed on July 1st; two temporarily and one downstate CFC is attempting to reopen. CFCs are the point of contact and coordination for all Early Intervention—intake, evaluation, plan development, services and service coordination. Without the CFCs, the Early Intervention program simply cannot function.
As the budget crisis continues—more CFCs will have to shutter their doors.
Individual providers who are not being paid because of the budget impasse –speech, developmental, occupational, physical and other therapists, will be forced to stop providing Early Intervention services and may pull out of the Early Intervention system altogether.
Additionally, the Early Intervention training entity has cancelled all face-to-face trainings until the budget situation has resolved. This means that new therapists seeking to join the Early Intervention program will either be prohibited or unreasonably delayed since they will not be able to attend trainings required for certification.
Of course current and future Early Intervention children and families will be impacted the hardest.
Early Intervention is a federal entitlement—meaning the state must serve these children or risk losing ALL federal dollars.
As a state and as a larger community invested in early childhood development we simply cannot afford to leave these children behind. Governor Rauner and members of the General Assembly, on behalf of Early Intervention families, providers and stakeholders we ask that you swiftly act to choose revenue and establish a budget that will ensure the future of Early Intervention. Babies Can't Wait!