Another day, another testimony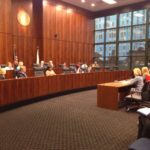 Children's health policy director Amy Zimmerman and summer law intern Molly McDonnell testified today at a Joint House Appropriations meeting to shape legislation that would appropriate federal funds that flow through the State's budget (SB 2042 SA1).
The amended bill is intended to help agencies, programs, and services supported in part with federal funds, such as maternal and child health grants, community mental health grants, and grants for Older Americans Act programs.
However, the amendment did not include all programs and services leveraging federal funds. We specifically asked for an amendment to include Early Intervention, the program which closes the gaps for infants and toddlers with disabilities and developmental delays.
Early Intervention is a powerful investment. About half of children who "graduate" from early intervention services no longer require school-age special education, providing long term savings. Illinois risks violating federal law and losing federal funding by denying these children their legal rights.
Most at risk in the short term, is the ability of 25 Child and Family Connection (CFC) offices which serve as the point of entry and coordination for all Early Intervention—intake, evaluation, plan development, services and service coordination across the state. Without the CFCs, the Early Intervention program simply cannot function.
Here are some excerpts of today's testimony:
"Thank you for allowing me to speak on behalf of the approx. 36,000 infants, toddlers and their families currently served by EI, thousands of EI providers and the 25 Child and Family Connections offices across the state, many of whom have already been directly impacted by the budget crisis."

The General Assembly came through 100% for Early Intervention when you rejected the Governor's plan to gut EI eligibility.

However, the budget impasse is now taking a significant toll.  We are asking that SB 2042 SA1 be amended to include the Early Intervention Revolving Fund.  The Revolving Fund includes approximately 16.6 million dollars in federal IDEA Part C funds, as well as other non-GRF income sources, including family fees and Medicaid that could be used to prevent the collapse of the system in the short-term.

Presently, Part C IDEA funds are used to cover therapy services that aren't covered by Medicaid or Private insurance including initial evaluations for determining eligibility for Early Intervention services and supports and any ongoing assessments for continued eligibility—by law these evaluations and assessments must be provided at public expense.  Wherever possible Medicaid and private insurance are always billed, and family fees are always utilized before federal EI Part C funds and GRF are accessed.  Some other services that Part C federal dollars cover include Developmental Therapy services, interpreter and transportation services, and where, for example, families have reached insurance visit maximums, federal dollars cover those occupational, speech, physical, social work and other therapies which are critical to so many EI families."

"Early Intervention is a federal entitlement—meaning the state must serve these children or risk losing ALL federal dollars and risk being found in violation of the Marie O. class action order.

With your intervention to allow access to the EI Revolving Fund—we won't solve the budget impasse but we may avert a crisis in the short term.  Every day that goes by that prevents current EI babies and toddlers from accessing services necessary for their development is a day we can't get back—this applies equally to the infants and toddlers who should be newly eligible to receive services but soon won't  even be able to obtain an evaluation or plan.  Illinois Babies Can't Wait.

Thank you."