On to 2018
Did you know that we have a big birthday coming up? Legal Council is turning 30!
Together we have accomplished so much in those 30 years. Your support has provided tens of thousands of people facing illness and disability with the opportunity to pursue their full potential. But the political climate is working against us all. This will likely be one of the most challenging years ever.
Right now I'm asking you to make your year-end donation to protect the rights of those challenged by life-changing health conditions, and ensure their access to justice, regardless of ability to pay.
Your investment helped fuel our major class action win protecting Medicaid, which provides life-saving care for over 3.2 million Illinoisans—including 1.3 million children, 275,000 seniors, and 20,000 people living with HIV. This high-impact litigation forced the state to pay billions of dollars to preserve Illinois' health safety net—ensuring that hospitals and clinics caring for our clients and communities remain strong. It also spurred the state of Illinois to finally pass a budget for the first time in over two years!  
Going forward, your generosity will allow us to reach more people, whether through direct legal care and education, policy initiatives, or far-reaching impact litigation.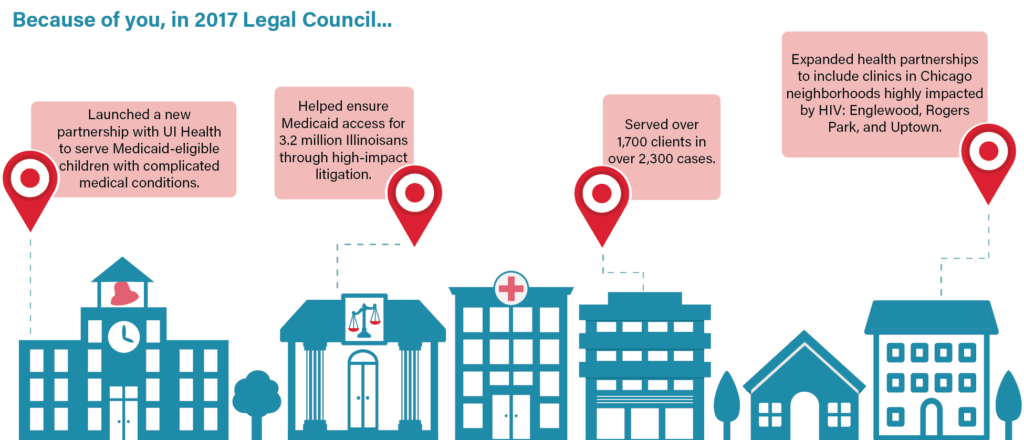 Last year our caseload increased by 20 percent. We expanded training and outreach, and now see people with legal problems at over a dozen hospitals, clinics, and human service agencies.
Like the Martinez family. They discovered their health insurance was cancelled right before their young daughter was due to receive hearing aids needed for school. And Mrs. Martinez was going without her high blood pressure and antiviral medications in order to put food on the table and keep a roof over their heads.
Sitting down with them, Legal Council established that all the Martinez children were eligible for Illinois' All Kids insurance program. We expedited those applications. The entire family had health coverage within the week, and the hearing aids were immediately approved. We got their prescriptions filled, getting them back on their feet.
At any moment, any of our lives could be thrown into chaos. A medical diagnosis or accident, loss of a job or health insurance, discrimination, personal violence, and more. Just like the Martinez family.
Now, as we move from the season of thanks to the season of giving, I am asking for your support. Your donation helps us fight stigma and discrimination—and promote dignity, opportunity, and well-being.
Please make a year-end donation of $100, $250, $500, $1000 or more.
With you by our side, Legal Council will be here as long as needed to fight for our diverse communities across Chicagoland and beyond. Thank you in advance for the year-end donation.
Sincerely,
Tom Yates
Executive Director


P.S. If you have any questions, please call me directly at 312-605-1958 or email tyates@legalcouncil.org.