Discrimination
HIV and AIDS have been with us for over thirty years, yet people are still facing discrimination because of their medical condition. Do these examples sound like something you have faced? There are laws to protect you and a lot of information to help you stand your ground. Read our legal guide, check out the other information shown on this page, and please call AIDS Legal Council at 312-427-8990 with any questions.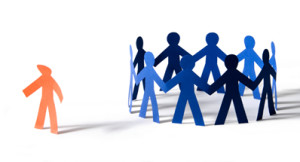 The examples below are typical of the cases we have seen.
Vernita worked in a large supermarket. One of her jobs was helping prepare the salad bar. When the manager found out she was HIV+, he told her she couldn't work there anymore because she might cut herself and then get blood on the lettuce in the salad bar.
Loraine went to a neighborhood tattoo parlor to get a tattoo to celebrate her birthday. The tattoo parlor told her they didn't feel comfortable giving a tattoo to someone with AIDS.
Frank needs to have his wisdom teeth pulled. He made an appointment with a reputable dentist and filled out the health questionnaire the receptionist gave him. When the dentist read the questionnaire and saw that Frank had HIV, he told Frank that he would have to find a different dentist who specializes in HIV care.
Some useful links: